A Conversation with a Passionate Volunteer
Nepolina Chhetri connected with Headwaters team members by chance at the New Delhi airport while both were en route to Nepal in May 2015. Since then, she has joined Headwaters on a subsequent trips to Nepal and later Haiti in the spring of 2016.
Combining a deep intellect (she holds four degrees, including recently earning a J.D. with an emphasis on U.S. regulatory affairs and U.S. intellectual property law) with personal passions that include disability rights and educating girls in her native Nepal, Nepolina is a gifted and well-rounded volunteer. We recently had a chance to talk with Nepolina by phone during her busy day at her office in New York City.
Tell us a little of your background and how you got connected with Headwaters.
I left Nepal after high school when I was 17. At the time, the United States was my only choice as I needed a merit scholarship to pursue my dream of becoming an engineer. Fortunately, my education in Nepal provided me such a solid math and science training that it was easy for me to graduate with a Magna Cum Laude from Case Western Reserve University with a B.S. in chemical engineering and a technical M.B.A. Subsequently, upon graduation, I accepted an offer to join the R&D team at the Dow Chemical Company. I loved my jobs and the financial security it brought. However, after 9 plus years of working, I yearned to get a leg-up within the corporate world with a law degree. My trip to Nepal in May was completely unplanned for I had been planning to celebrate my post-bar exam and acceptance to the Virginia Bar with a trip to Europe.
During a long layover in the New Deli airport, I met Lauren Lombard and Rebecca Thomley from the Headwaters team. In the beginning, we were both surprised and questioned the other on entering Nepal, post the then recent earthquakes. However, when I learned about their work in similar post-devastation situations world-wide, I offered my services to help in any way I could. It turned out that the team needed a translator and someone who could assimilate them to the cultural sensitivities to their work. This is how I had the opportunity to join the team. We felt the collaboration was incredible and this is why I continue to work with them – a subsequent trip to Nepal in 2016 and later in Haiti.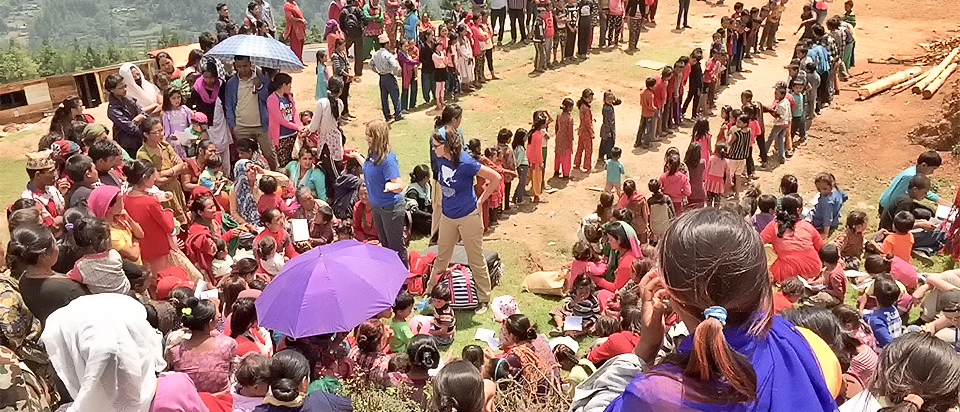 When you were working with children in Nepal who had experienced the earthquake, what stood out for you as some of the children's greatest concerns?
In my first trip with Headwaters I spent a lot of time around the team of experts and trained psycho-therapists and mental health professionals. Furthermore, I was being trained repeatedly on Psychological First Aid (PFA) and Compassion Fatigue (CF) as I did my translation work. I think this helped me recognize several patterns of anguish in actually both the adults and children we met.
I don't recall any child coming up to any of us sharing a direct concern. But it was apparent, especially in the first trip in May 2015, among the children's forced smiles, curiosity at the goodies we brought, and pleadings for food that they were traumatized both physically and mentally. What I can share with you in my own capacity is that I observed that the Headwaters team members can talk directly with people and make real connections. Prior to our coming to the villages, and interacting with them on PFA and CF, we learned that no one was talking with the children. Instead, prior to our direct conversations with the parents about including the children in the discussions and being very candid with the nature of the devastation, they said they hushed up in front of children. Of course, now I know that this is likely the worst thing adults can do for children. Children, like every adult, need to be heard and talked to, to be able to cope with what they have witnessed, continue to see, and continue to feel post the major earthquakes.
What are some of the skills that you saw Headwaters use in addressing concerns?
I found Headwaters used very strategic and natural approaches to allow for both the adults and the children to open up by playing fun games, sharing stories, signing songs, distributing power bars etc. These simple activities lend themselves to an openness for all to listen to us on the many methodologies to get resiliency back to the society. Even though Headwaters is a small organization, it has such a committed team and ability to coordinate and partner with many individuals and teams around the world.
During our second trip to Nepal in 2016, in partnership with All Hands Volunteers, we were reading a book published by Headwaters specifically for Nepal called "Nepal Shakes." I remember I had just finished with the story book and was literally reemphasizing the steps that the children must take if an earthquake hits. And an actual earthquake did occur. Immediately, the children started rushing toward me and the other Headwaters team crying – and this was already a year after the large earthquake. They were very frightened. This was such a sad experience and yet a validation for us as to how deep rooted are the fears from natural, wide-spread disasters. We used this instance to talk about why it is necessary to communicate with each other their fears. We told them that it was OK to be scared.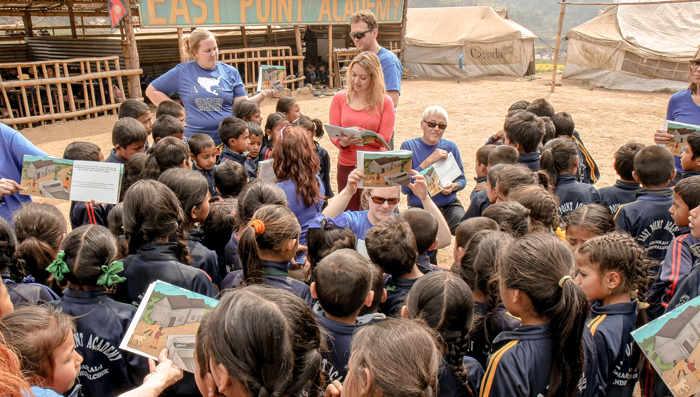 To promote communication about fears and other aspects under PFA training with Headwaters, I have often used an analogy of taking care of a physical cut – how a physical wound needs to be cleaned, covered, taken care of with ointments to heal. Likewise, there is a "mental wound" created by massive natural disasters we experienced in Nepal and the ointment in this case is the ability to share and talk about our fears. I found there is an immediate credibility that Headwaters brings with their experiences and skill sets, but also their understanding of human behavior after traumatic natural disasters that lends to people – regardless of color, creed, geography, or background – to open doors for us. I think the idea we instill of sharing and communicating our personal fears and the various actionable steps to gain resiliency back can go a long way in building back the communities, even after the worst types of natural disasters.
In my own capacity, I found the children in Nepal have an amazing attitude, a resiliency skill built within them. I saw it more so particularly for those in orphanages. Maybe this is a skill set of children, as I saw this as well in the Haiti orphanages.
What are some of your other passions?
I am very committed to support positive activities in my communities in any way I can. Post Nepal earthquake, I have been involved in the U.S. with legal support on various pro bono programs providing services for those in the U.S. with Temporary Protection Service filings. These were done in collaboration with Mission Rebuild Nepal. Once a month, I also serve the Maryland, DC, and Virginia legal teams to help children under immigration issues under the UAC dockets.
Currently, I have been involved in promoting accessible tourism in Nepal. For this, I participated in the Wounded Heroes Trek to Nepal as part of the global accessible tourism goals for 2016. This was a two-week trek with US veterans and community leaders who have either visible or non-visible physical disabilities. Additional efforts are to bring momentum to the Nepal legislation on disability rights that are similar in substance to the U.S. Americans with Disability Act.
I am also passionate about opening the conversation of menstruation and its direct effect on continuous marginalization of girls and women in Nepal. This is a difficult topic and the issues are at the core of traditions, faiths, and religions in Nepal. Even the most open-minded people have a stigma associated with this natural process for a woman. To me, this is just another token among the many systemic hurdles a girl-child faces in this country.
Currently, for Headwaters, I am coordinating efforts to provide a systematic training to teachers and the children with mass distribution of their book on the Nepal earthquake.
Anything else you wish to add?
I look forward to continuing my involvement with Headwaters – especially with their regular trips to Haiti and trips to the Philippines, Nepal and Greece. It is a privilege for us to be able to volunteer and serve humanity in the darkest hours. I have learned that you are who you surround yourself with. And I am very fortunate to Headwaters for continuously allowing me to be part of their incredible family.