In November 2013, Typhoon Haiyan, also known as Typhoon Yolanda, the strongest tropical storm ever recorded, bore down on the Philippines, killing as many as 6,000 people and leaving millions homeless. In Tacloban City, the hardest hit community, virtually every family lost a loved one. With a 20-foot storm surge and 195 mile per hour winds, children were torn from their parent's arms. Entire communities were leveled.
Headwaters sent a group to the Philippines with first responders to perform desperately needed relief work in the aftermath of the typhoon. The group traveled to remote villages in the Tacloban area, often visiting two or more areas a day, working alongside the doctors and nurses who triaged many of the sick and injured victims. Headwaters provided much needed psychsocial support including with the children while they waited in long, hot lines for medical relief.
When Headwaters returned to Tacloban it was with the goal of helping the community continue to heal. We created and brought our children's book: When Strong Winds Blow. The book was written by Headwaters volunteers specifically to help children process the emotions that come with a natural disaster. Over several trips to the Philippines we shared the book with over 4,000 children and adults. The book was accompanied by a caregiver's guide which was used to help the teachers, parents and caregivers understand how to assist the children to effectively use the book to process their emotional responses and build resiliency.
We also provided Psychological First Aid and other psychosocial training to the community leaders gathered in Cebu, Philippines. Teachers, disaster relief representatives and community leaders from all over the island gathered for training designed to assist in the aftermath of this large scale disaster.
When Strong Winds Blow was created by Headwaters Relief Organization volunteers with consultation from a Filipino volunteer, to help children understand their experiences after a natural disaster. The book was completed after Typhoon Haiyan (Yolanda) and is designed to assist children in coping with their experiences and in building resiliency.
When Strong Winds Blows helps children process their feelings, understand normal reactions to this traumatic event and empower them with techniques to cope with future unexpected events. Headwaters was able to present this book to more than 4,000school children and teachers. A teachers/caregivers guide is available to help use the books and their techniques.
Read the latest
In the News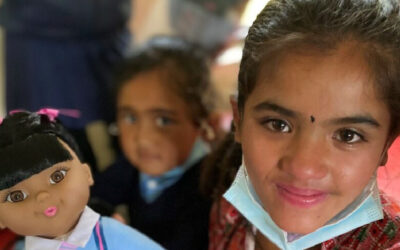 Through her non-profit disaster relief organization, Headwaters, Rebecca Thomley of Orion provides aid and comfort to families and...
Photo Gallery
See our work in the Philippines