Using Children's Story Books In Disasters
With our children's books, we initiate a process of active engagement through children that includes other members of the community. We are able to engage not only the children but their families, teachers, caregivers and their communities in discussions and healing. Story books can support the development of coping techniques and build resiliency in children and their communities.
It is generally accepted that children are one of the most vulnerable groups in disasters, however the pivotal role they can play in reinforcing resiliency post disaster hasn't been sufficiently explored. Our experiences in the field have shown that adults and families with or without children will come together and unite in the protection of children in times of disasters.
With a story very similar to their daily lives, told in their own language, accompanied by visually representative art work reflecting their experiences, a process of learning and empowerment is started. These stories can assist children by eliciting their thoughts and helping them recognize distortions and make sense of their world. In this process children are supported in reinterpreting a situation of adversity and positively redefining their own experiences.
Storytelling has been long realized as a method of articulating life experiences in a meaningful way in psychology and other related medical fields. However, storytelling in public health is an emerging concept and is as complex as public health itself. The art of storytelling as a powerful multidimensional tool for community based public health approaches, strategic advocacy and effective communication is recently being recognized.
Our story books are based on an understanding that, resilience while complex, can be fostered and developed through strategies and active engagement. Through stories told in their own languages, a powerful trigger of wanting to know more and an acknowledgment of their current situation is addressed. The book along with the caregivers' guide focus not only on disaster response, but on the techniques that are supportive to grow and learn from unexpected traumatic events.
Training on how to use the book has been designed to be applicable to caregivers with any background from the community. These books do not require any prior mental health training or specialized professional background to be used effectively. All caregivers receive this training prior to the distribution of the books. These sessions also focus on avoiding any potential trauma that might develop in a post disaster fragile mindset of the children and community.
"When Haiti Shakes" was the first book created by Headwaters Relief Organization.
This book was designed to help children understand what an earthquake is and teach them what to do if another one occurs. Many children didn't know what to do when the earthquake happened in 2010. They had no knowledge that the buildings could be dangerous so instead of moving away from the buildings to a safe area, they ran back into the buildings. This resulted in the loss of many lives.
The second and third printing of this book were completed in consultation with the
Ministry of Education and translated in three languages, English, Creole, and
French. The Ministry has placed "When Haiti Shakes", including the teacher's guide,
in Haitian schools and libraries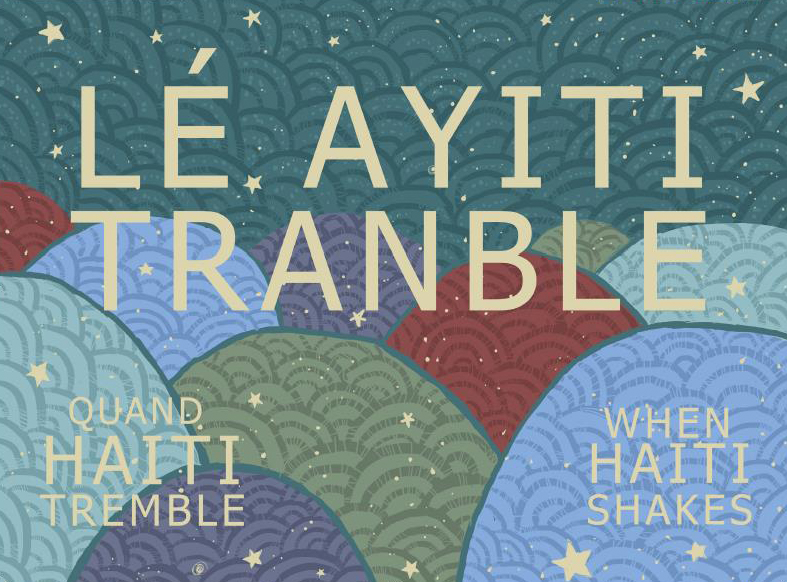 "When Strong Winds Blow" was created by Headwaters Relief Organization volunteers with consultation from the Filipino volunteer to help children understand their experiences after a natural disaster. The book was completed after Typhoon Yolanda (Haiyan) and is designed to assist children in coping with their experiences and in building resiliency.
"When Strong Winds Blow" helps children process their feelings and understand
normal reactions to traumatic events. It empowers them with techniques to cope
with future unexpected events. Headwaters was able to present this book to over 4,000 school children, teachers, caregivers and community members. A second printing was done by the Filipino community in the United States. A teacher/caregiver guide is available to help use the book and its techniques.
When the Great Sickness Came
Headwaters Relief Organization's youth volunteer writers and artists, in consultation with individuals native to Sierra Leone, Guinea and Liberia, created the children's book "When the Great Sickness Came." The book is designed to explore the emotions and family losses many children experienced related to the Ebola outbreak. A teacher/caregiver guide offers techniques to help children with understanding the virus and coping with loss. It also provides suggestions for children to maintain their physical and emotional health.
It has been distributed to children in Sierra Leone, Guinea, and Liberia through
partnerships with other non-profits including Salesian Mission, Healey International Relief Foundation, and Brother's Brother Foundation as well as directly by Headwaters. The book has also been developed into a play and taught to children in this way.
"Nepal Quake" was created by a young girl and her father, with the support of emerging artists, in response to the 7.8 magnitude earthquake in 2015. The book teaches children about earthquakes and what to do when one occurs. It assists children to process their feelings and to understand normal reactions to traumatic events.
The book provides techniques to empower and assist children in building resiliency.
A teacher/caregiver guide is included, to support and provide guidance in the
use of the book. "Nepal Quake" has been distributed directly in Nepal by Headwaters and through Teach Nepal and other Non-Governmental Organizations.
Home Is Where The Honey Is
"Home Is Where the Honey Is" was inspired by and is dedicated to the women of the Melissa Network, an organization in Athens, Greece, a place of growth, knowledge, and solidarity for refugee girls and women. The founders of the Melissa Network used bees to symbolize the process of establishing new beginnings and producing what nurtures and holds a society together. Many young women participating in the Melissa Project collaborated on the process of creating this book, written and illustrated by Headwaters' volunteers.
The book explores the children's reactions to having to quickly leave their homes and their friends to travel to a camp in a strange place with new people where they don't understand the language or culture. The book explores the concept of working together to build a new life. A caregiver guide is included to support use of the book. A second version of this book was created and modified for use with children who are unaccompanied minors. Both books were translated into Arabic, Farsi, Urdu, and Greek and were introduced to children living in camps in mainland Greece and on the island of Lesvos. Since then the book has been used in camps in Jordan as well. Two printings have been distributed and a third printing has been requested.
"The Savage Wind" is the sixth children's book created by Headwaters Relief Organizations' volunteers to help children in understanding the trauma they experienced. The book was written to assist children who experienced Hurricane Maria in Puerto Rico in 2017, although children and adults who experience hurricanes, tornados and other natural disasters could experience similar responses. The coping techniques described in "The Savage Wind" can be applied to most traumatic events. A caregiver guide accompanies the book. "The Savage Wind" is in its fourth printing. It has been distributed widely in Puerto Rico by Headwaters. In addition, Headwaters provided training to the Department of Health and the Medical Reserve Corp across the island. "The Savage Wind" has won three awards.
The coping techniques described in "The Savage Wind" can be applied to most traumatic events. A caregiver guide accompanies the book. "The Savage Wind" is in its third printing. It has been distributed widely in Puerto Rico by Headwaters. In addition, Headwaters provided training to the Department of Health, the Medical Reserve Corp and a diverse group of professionals in order for the book to be further distributed throughout the island. "The Savage Wind" has won three awards.
"Together Again" (Hami Sangai- in Nepali) is Headwater' seventh children book which discusses human trafficking and the harmful social and cultural practices that can support it.
Traditionally, services related to trafficking have often been developed to support people who have already been victimized. This book has a preventative focus. It is designed to educate children and their families. Our effort also has been to educate communities about the culture of ostracizing the victims. The book engages children and communities in support of this cultural change.
Headwaters Relief Organization introduced this book to Nepalese school children in Katmandu and in rural Nepal. Training was provided to teachers, caregivers and the community about how to use the book with children. An Impact Study was also implemented.
"When Puerto Rico Shakes", was created in response to the earthquakes in Puerto Rico in the fall of 2019. This follows the publication and distribution of "The Savage Wind", in response to hurricane Maria in 2017. Headwaters experienced a high demand and positive community response with the book created about Hurricane Maria; a specific request from the Puerto Rican community was made for this book about the earthquakes.
This book uses the same characters as the previous book to assist children in processing these experiences. The publication and distribution of "When Puerto Rico Shakes" has been delayed by COVID-19 until the summer and fall of 2020
Headwaters Relief Organization has produced a series of coloring books- When We All Stayed Home, When We All Wore Masks , and When We All Got Vaccinated, aimed at helping children and families during this Covid-19 pandemic. These books were also translated into Spanish.
The original coloring book, When We All Stayed Home first published and distributed in April of 2020 was followed by, When We All Wore Masks. The books have also been translated in Spanish and distributed in all 50 states and in 7 countries internationally. A survey of people who used the book with their children indicated 87 % felt it was helpful. The repeated versions of the book were important to encompass the evolving nature of the pandemic as well as adapt to the latest guidelines and rapidly developing science.
As children engage in the artwork and coloring, the disease COVID-19 is explained. The book offers ways to protect yourself including handwashing techniques, social distancing, mask-wearing, and vaccines. The coloring books assist in the development of coping skills that build resiliency. As parents engage in talking with their child about COVID-19, the children and parents can also process their own emotions. The book also includes suggestions for adults on communication with children about coronavirus; common questions children may have; skills to teach children to protect themselves; and common reactions children have towards stress.
The coloring books were well received. Over 10,000 coloring books were distributed to families and their children. The books have reached 50 states, the District of Columbia, Puerto Rico, and the US Virgin Islands as well as seven other countries with the largest distribution in Columbia. By a conservative estimate, as many as 30,000 adults and children were reached.
These coloring books were distributed in the communities through our self-approach, through our colleagues, partner organizations and disaster relief networks for free. It was all possible through support of donors, awards and grants Headwaters received.
"Stronger Together " is Headwater' ninth children's book. The book, "Stronger Together", accompanies the Asha Doll with a story about girls supporting each other to reach their goals, including their educational goals. Headwaters Relief Organization developed the Asha doll campaign combined with the story, "Stronger Together", to create a message for girls about embracing our individual differences. A doll that looks like the girls in India and Nepal is important. Currently, if girls in these countries have dolls, they are usually blonde and blue-eyed dolls. A doll that looks like them is a positive role model, encourages cultural and racial acceptance and builds self-esteem.
Times of war and natural disasters are desperate times. Desperate times call for support from us all. Together We Stand, is our new book created for children and families.
This book and the caregiver's guide were written in Ukrainian and Russian. There are also translations available in Polish and Hungarian. As children and caregivers explore the pages of the book, a story of a child's family experiencing this war, is told.
The story, "Together We Stand" was developed to assist children who are coping with trauma. Children may experience trauma as the result of a terrible or unexpected event. The event can cause physical and emotional reactions. These emotions may include sadness, anxiety, anger or fear. Some examples of physical reactions include headaches, stomach aches, changes in appetite, or disturbed sleep. This book was created to assist children by normalizing these reactions and supporting them in learning how to cope with these physical and emotional changes, and thereby assisting them in developing resiliency.
As the result of turmoil and conflicts in some countries, people have experienced traumatic and unexpected changes in their lives. While this book was designed for children, adults often respond in much the same way when faced with a terrible and unexpected event. Regardless of the traumatic event that they experience, individuals coping with these experiences react in similar ways. One's body and mind may continue to attempt to process and reconcile a traumatic event, sometimes long after the event has occurred.
The book also provides suggestions for adults on how to carefully monitor their children, risk factors, and some of the possible difficulties of working with displaced children.
Headwaters' volunteers worked with individuals from Ukraine, Poland and Hungary. Many were refugees-parents and children- who crossed the border to seek safety from the conflict in their country. Many of the refugees were mothers and their children. The fathers and older brothers often stayed behind to fight for their Country. We also worked with caregivers at the shelters on how to use the books with the children and also how to avoid secondary trauma or compassion fatigue.
Headwaters Relief Organization dedicates this book to the people whose strong spirits, courage and faith in the future are evident to all, at this moment in time.
Help us make an impact. Get involved or donate.
100% of your contributions go directly to the people we support.