On May 16, an EF3 tornado struck an 83-mile path across north central Wisconsin and was on the ground for a record 2 hours. In its track was the small town of Chetek, located in a heavily wooded area dotted with lakes and vacation homes, where the tornado relentlessly splintered tens of thousands of trees and upended mobile homes and RVs.
Headwaters volunteers responded to the ongoing clean-up efforts in the Chetek area, two-hour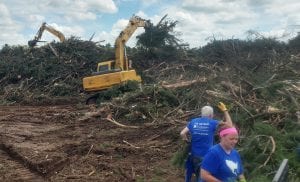 drive from Headwaters' home in Minneapolis.There, they helped an older woman who had waited to contact the volunteer response center because "she felt other people were worse off than her," said team lead Leota Bemis. "When we got there her mobile home was severely damaged with several large trees down."
By the end of that day, the Headwaters team, with the help of a neighbor and his chainsaw, had cleared the woman's home of trees, with haulers readily on hand to take the debris to the recycling center. "The homeowner was deeply grateful and emotional," said Leota.