Disaster Response Training
Headwaters provided training to community members engaged in disaster response planning in December 2016, nine months before St. Johns US Virgin Islands experienced Hurricane Maria in September 2017. This training was done less than a year before the hurricane devastated the US Virgin Islands. Headwaters provided ongoing support during the aftermath of the hurricane and provided follow up support as well.
Headwaters received a grant in 2018 to provide telecounseling to survivors of the 2017 hurricanes. Telecounseling will be provided remotely with the recipients at a location in St. John's by our volunteer in Minnesota. This service will be provided in 2019 with our staff of volunteers that are trained in providing mental health support.
Read the latest
Learn more about our work
Thank you to CCX Media for featuring Headwaters as we prepare to respond to the recent storms. We need volunteers! Please let us know if you can help. https://youtu.be/xjXwu_GtJec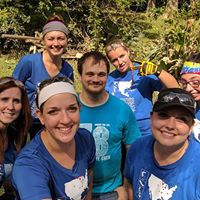 Texas, Florida and the Caribbean have been hit by record storms. In response, Headwaters Relief has been on the ground in Texas, helping initially with search and rescue efforts and working with families to support their physical recovery needs. Teams of Headwaters...
We are in need of these supplies as soon as possible! Please drop off at: 9400 Golden Valley Road Golden Valley, MN 55427 Monday - Friday 8 AM - 5 PM Contact Ashely with questions at: aemry@meridiansvs.com or 763-450-3783 Please donate any new or use tools and/or...
Help us support St. John and the US Virgin Islands. Get involved or donate.
Your support provides funding for communities like St. John to continue to recover and rebuild.