On April 23, 2015, Sarah Shrestha did her first bungee jump. The next day was her birthday. Then, on April 25, an 8.1 magnitude earthquake struck her native Nepal, killing some 8,000 people and injuring 22,000.
These events stand as a bookmark in the memory of this young women who lives in Banepa, in the Kavre District of Nepal. Sarah came to Headwaters through the Scheer Memorial Hospital, one of our partners in Nepal, and has subsequently served as our interpreter on several deployments. As someone who has faced the challenges of a life without parents and knows what it is like to live on the streets, Sarah is dedicating her life to help street kids and bring awareness to their plight – she plans to get a degree in media and do documentaries about this little-understood aspect of Nepali life.
Tell us about yourself.
My mom's name is Laxmi and she got married at the age of 13 in Baneshwor, Kathmandu, by her parents. She was raised in a small village so she grew up as an innocent girl. She had been with her husband for some time when she discovered that his mind didn't work properly. Unfortunately, she didn't have a choice so she stayed with him. Within the first two years of marriage, she got pregnant and bore a baby boy. Two years later, she learned that her mom was severely sick so she spent her money traveling alone to take care of her. She spent the last couple days of her mother's life alongside her bed and was with her when she died. After my grandma's death, my mom couldn't go back to her husband because she didn't have the money to pay the trip. No one helped her. Another man from Dakshinkali took her as his wife. So, from that man, she bore three daughters. She stayed with him for 12 years. After that time, her husband left her.
One day, as she was working in the house with her children, a lady passed by and asked her if she was interested in getting a job. My mom was looking for a job so she accepted. The lady took her to a man's house and left her there. Later on, she discovered that she had been sold by a trafficker to that man. She couldn't do anything, so she stayed there for one month. This man promised to pay the money to the lady after the month, so when she came back to pick it up he affirmed that he had to go home and get it. He went to his house but he never came back.
After a few days, my mom found out that she was pregnant. They (she and the lady) discussed for a whole night about the situation as my mom complained about the lady's lies and the supposed job. At the end, the lady went away leaving my mom alone in the streets. After that traumatic experience, she kept looking for a job. Finally, she got one at a small hotel, where she washed dishes. However, her belly started to grow bigger and bigger, and it didn't take long until her boss found out that she was pregnant and kicked her out.
As my mom was walking in the street, looking for a job or for anyone who could help her, she found some people who felt compassion for her and gave her food to eat. Later, a couple offered her to stay at their house. She stayed with them for one month and then she gave birth to a little baby girl while she was over a bunch of bamboo sticks, near to the jungle, in a place called Gokarna, Kathmandu! Guess who that little girl was?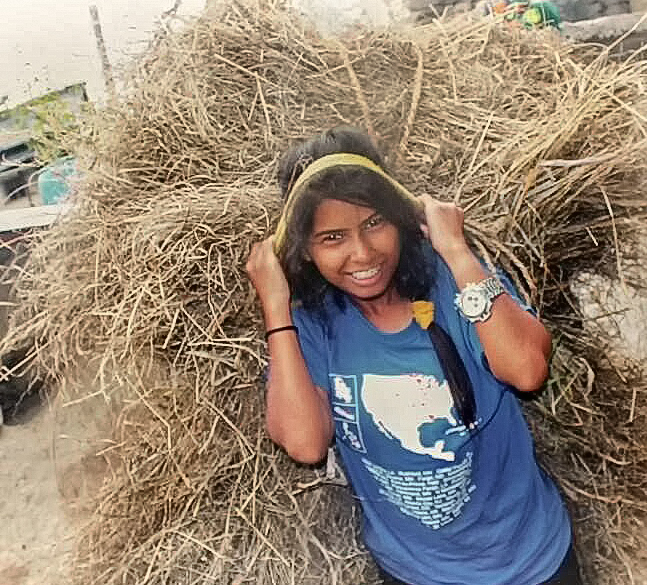 Tell us about your experience working with relief teams after the earthquake.
After the earthquake I have worked with several relief teams – specifically they came here to comfort the people who struggled so much. Also they came here to work for children who were having sicknesses because of the earthquake such as stomach and headache problems. Many of the children had lost their parents in the earthquake and since I work with children they asked me to be an interpreter and lead out their program. The volunteers I worked with were there to distribute clothes and food and other groups that were there to distribute medicine and do health programs.
What was your experience working with Headwaters?
Because I was there to help the children I loved working with the Headwaters team. They were really friendly and just so amazing. They really work in unity, giving so much encouragement and comfort to the people.
How did you learn English?
I learned English speaking with foreigners. Nepalese is our national language and English is a language everyone knows.
Can you tell us about your experience with the 2015 earthquake?
I had never experienced an earthquake. One day in my class at school there was a small earthquake and my friends and classmates said that was an earthquake but I did not feel it. So I was curious about what it would be like. When the earthquake occurred in 2015, I was at the Scheer Hospital and the ground began to shake and there was a lot of people screaming 'it's an earthquake' and I became terrified; I thought there would be no more Sarah and no more people and we were all going to die. We ran to the emergency room. Many patients came to the hospital and we were helping everyone we could; many people died in our own hands and others died on their way to the hospital. It was the worst thing I ever experienced. Eventually, the doctors and nurses moved the patients outside because they were afraid that the building would come down.
What were some of the lessons you learned about the strength and resolve of the Nepalese people in the aftermath of the earthquake?
People in Nepal really struggle so especially because they live in poor conditions. But they bear with these things. When the earthquake happened they comforted and helped each other. You see some rebuilding but the process is slow because we continue to have earthquakes. Just last month there was a small earthquake.
What are your interests and long-term goals?
What I am currently doing is helping the street kids from Nepal which is my passion. They are homeless. I experienced in my life the same thing when I was 5 and 6. I was raised in an orphanage so I know what it is like not having parents and I share their feelings. Recently, during Christmas, we collected money for the street kids and gave them presents—and we helped to show people that they should not be scared of them. I would like to go to school to study media at a four-year school and eventually make a documentary about these kids.